1D SCANNER™
Accurate Point Dose & PDD Dosimetry Water Tank
1D SCANNER™

 is an efficient water tank for performing point dose and PDD dosimetry. Use it for annual linac calibration or monthly constancy checks.
Simple, Efficient Water Scanning
1D SCANNER enables dosimetry measurements in water, including output factors, dose calibrations, annual, and routine QA. Collect PDD curves with optional SunDOSE™ software and PC Electrometer™.
Easy, Reproducible Setup
Setup is simple with a single power and data cable connection. Plus, a water surface detection feature automatically sets the dosimetry detector at the water surface, removing subjectivity. Control the tank in-room using the pendant or outside of the room using software.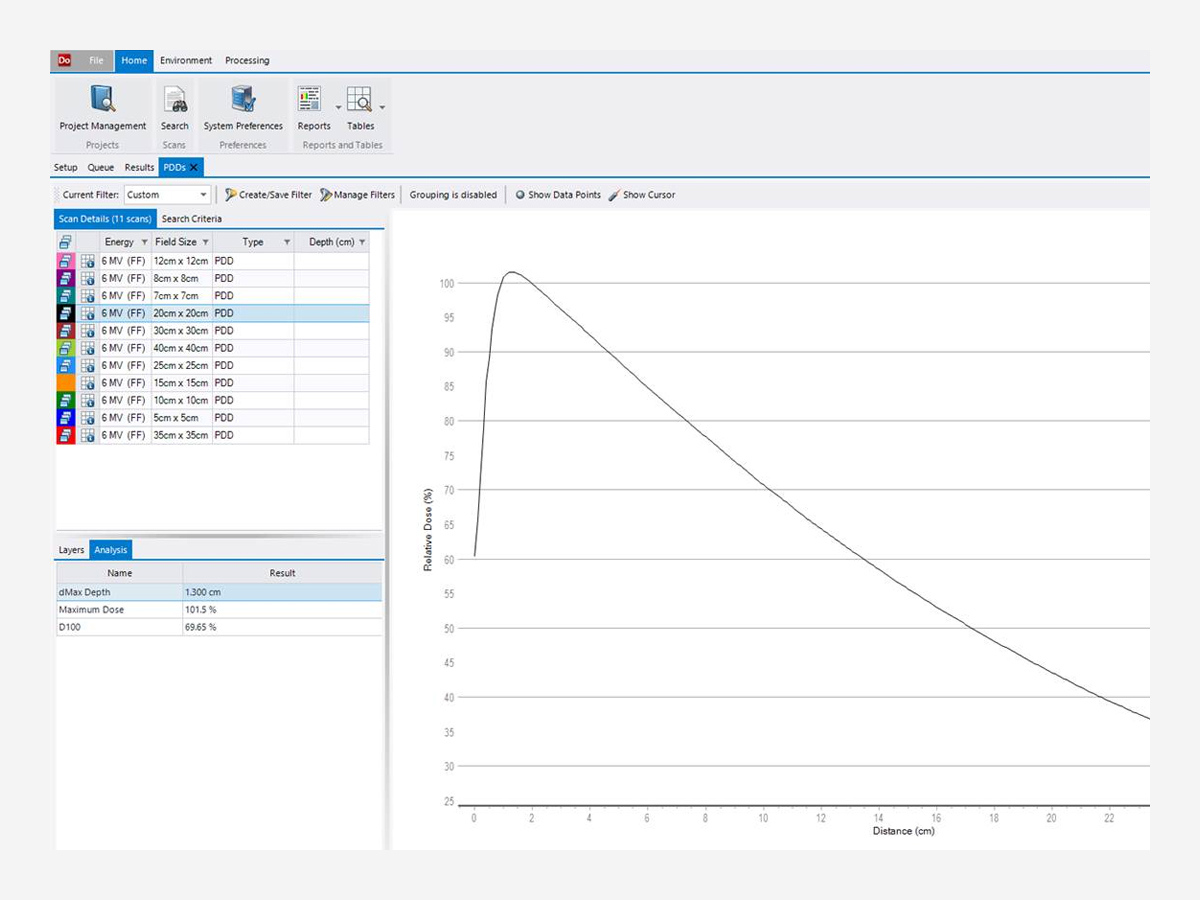 Intuitive Software
SunDOSE™ software complements 1D SCANNER with powerful analysis and smart features for enhanced efficiency.
Queues and projects

 for organizing and executing groups of scans, and tracking annual QA and commissioning

Multi-scan comparison tool

 for 1-click quantitative analysis across data sets

Searchable database

 

for easy access to data with the ability to share data among users

Processing layers

 

for insights into each function along the scanning process, and ability to revert to earlier unprocessed data
Device Specifications

| | |
| --- | --- |
| Inner Dimensions L/W/H (cm) | 35.0 x 39.0 x 36.2 |
| Exterior Dimensions L/W/H (cm) | 37.6 x 40.6 x 36.8 |
| Interior Volume | 50 liters at 35 cm depth |
| Weight empty with arm (kg) | 10.4 |
| Arm positioning increments (cm) | 0.01, 0.1, 1.0 & 10.0 |
| Arm positioning accuracy (cm) | ± 0.01 |
| Scan depth maximum (cm) | 30.0 |
| Operating system | Windows 10 Pro 64-bit |
| Number of connection cables | Single power/data cable |
Alsahafa District, Prince Nassir Bin Farhan Street. Building: 4140 RIYADH, 13321 Saudi Arabia​