MODERN DAY THREATS REQUIRE CUTTING
EDGE PPE PERFORMANCE
THE GORE ® CHEMPAK ® ADVANTAGE
Speed and Mobility
Homeland Defender® suits fit your body like conventional outerwear and are certified for use with tactical-style boots. Unlike most traditional HAZMAT suits, our suits allow you to run, jump, and move as needed without compromising protection from dangerous chemical and biological agents.
Comfort As A Force Multiplier
Homeland Defender® suits offer a level of comfort that allows responders to function effectively for long durations until the mission is complete. Each suit is designed with a cooling mechanism to alleviate heat stress as compared to conventional HAZMAT suits. This allows for extended response durations and fewer shift rotations.
Durability
The durability of any CBRN suit is important from a safety and investment standpoint. Homeland Defender® suits are uniquely rugged in both fabric and seam construction to allow for worry-free tactical, rescue, and Decon operations without the need for chemical tape. Homeland Defender® suits can be reused multiple times if they are not contaminated.
ABOVE AND BEYOND OSHA
Homeland Defender® suits raise the bar for what first responders should expect from their CBRN ensembles. OSHA-rated HAZMAT suits are designed for cleanup and decontamination operations but can be cumbersome, uncomfortable, and delicate. The Multi-Threat suit, RC3 suit, XRT suit, and BRN-94 suit are designed specifically for operations where speed, comfort, and durability are crucial.
NFPA 1994 VS. OSHA
Most HAZMAT and SWAT teams operate in OSHA-rated suits that have changed very little in design and functionality for decades. The problem with this approach is that OSHA ratings only indicate how the suit is designed to interact with the respirator or SCBA and do not factor in any performance requirements related to chemical permeation or penetration. In contrast, the NFPA 1994 and NFPA 1992 standards are built around both design and performance requirements. While no HAZMAT suit can guard against all chemical and biological threats, ensembles certified to NFPA standards are intended to provide protection against a much broader range of threats than basic OSHA-rated suits, which are made from numerous fabric technologies, each engineered to protect against specific chemical threats. Although there is no official relation between the two standards, a rough comparison of the various NFPA 1994 classes to OSHA levels may be helpful.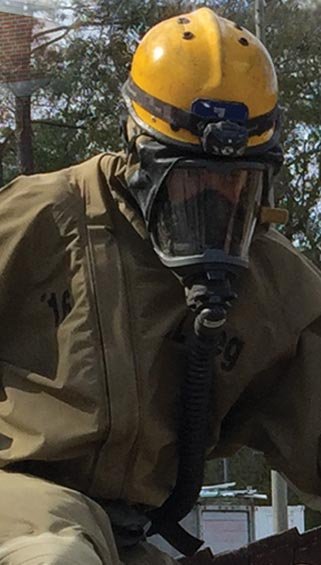 RC3® ENSEMBLE
NFPA 1994 Classes 3R and 4R, NFPA 1992
Blauer's RC3® ensemble is purpose designed to protect wearers against a broad range of CBRN threats including liquid and vapor chemicals, radiological and biological particulates, and liquid chemical splash during physically demanding tactical entries, confined space rescue, and US&R missions.
The RC3 ensemble is made with a ruggedized version of Gore's CHEMPAK® Selectively Permeable fabric that provides a level of abrasion and tear resistance similar to the CHEMPAK Ultra-Barrier fabric used in Blauer's Multi-Threat ensemble while maintaining the breathability of the fabric
used in Blauer's XRT ensemble. The RC3 ensemble was developed in response to current users of Blauer's XRT suit (NFPA 1994 Class 3) who requested a more durable fabric and incorporation of reinforcing fabrics and padding at critical stress points to extend into more demanding
mission profiles. Like all other Blauer Homeland Defender® ensembles, the RC3 is designed as a one-piece coverall with integrated gloves and booties, a liquid and vapor resistant zipper and storm fly, and integrated hood with a chlorobutyl face seal for use with approved APR/PAPR
masks. The suit is self-sealing and requires no chemical tape.
APPLICATIONS
US&R
Confined space rescue
Tactical entry
Physical security
Warm-zone patrol
DECON
Contaminated casualty transport and handling
FEATURES + BENEFITS
NFPA 1994 Class 3R (2018 ed.) certification
NFPA 1994 Class 4R (2018 ed.) certification
NFPA 1992 (2018 ed.) certification
Breathable GORE CHEMPAK fabric
Streamlined pattern provides a more tactical fit on the user and better equipment integration
Ten-year shelf life
Machine washable for multiple uses if not grossly contaminated
Durable fabric and seams prevent accidental contamination and provide user confidence
Integrated knee and elbow pads
Available with 2 glove system options: Airboss AMG or Gore G9492 with NOMEX overglove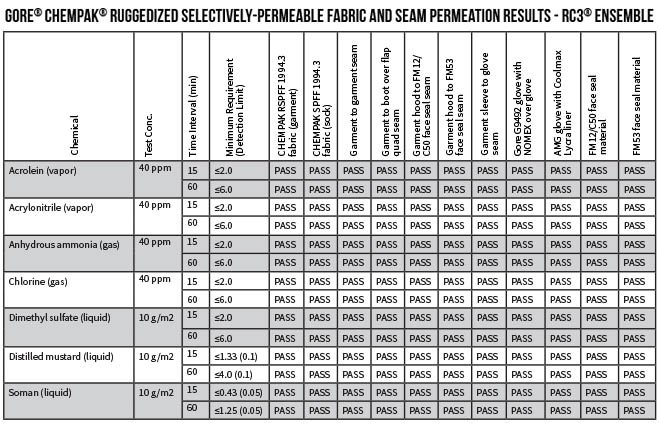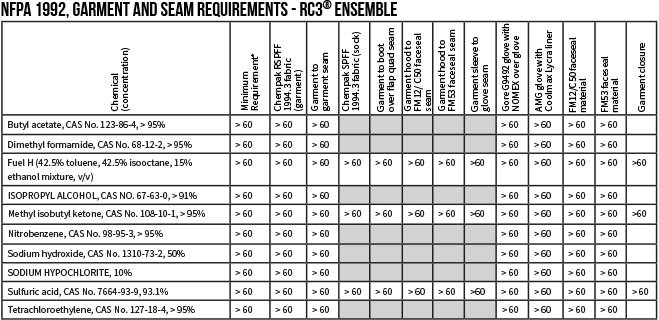 XRT ENSEMBLE
Extended Response for Warm Zone CBRN Incidents
Blauer's XRT ensemble is certified to the NFPA 1994 standard for Class 3 protection against liquid, vapor and particulate CBRN agents at levels below IDLH. Made with GORE® CHEMPAK® Selectively-permeable fabric, the XRT suit is lightweight and highly breathable to provide comfort during extended response operations. The suit's one piece design with integrated glove system and booties eliminates the need for chemical tape and allows first responders and down-range personnel to quickly self-don the suit with approved APR/PAPR systems.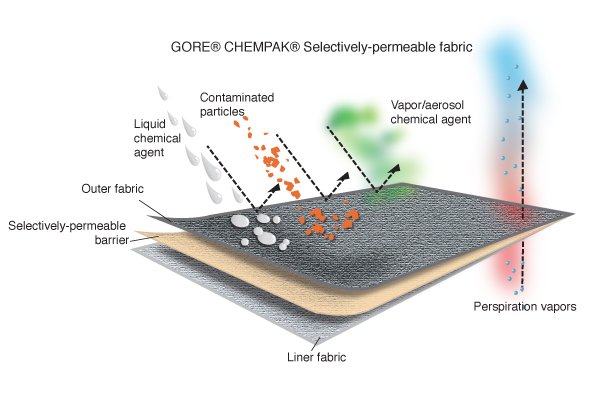 FEATURES + BENEFITS
NFPA 1994 Class 3 (2018 Ed.) Certified
NFPA 1994 Class 4 (2018 Ed.) Certified
Lightweight and form-fitting for excellent mobility
Breathable barrier fabric allows heat and sweat vapor to dissipate away from the body for greater comfort and extended wear time (up to 8 hrs)
Front-entry design allows for self-donning if necessary
Integrated glove system and booties eliminate the need for chemical tape
Approved for use with tactical-style boots
Rugged GORE® CHEMPAK® Selectively-permeable fabric and extra-strength seams allow for safer operations in demanding tactical and patrol situations
Price point appropriate for mass distribution and cache strategies
Machine washable for multiple uses if not grossly contaminated
APPLICATIONS
Perimeter security and control of CBRN environments
DECON
"Warm Zone" search and rescue
Escape from contaminated environments
Medical triage for WMD and industrial accident victims
Consequence management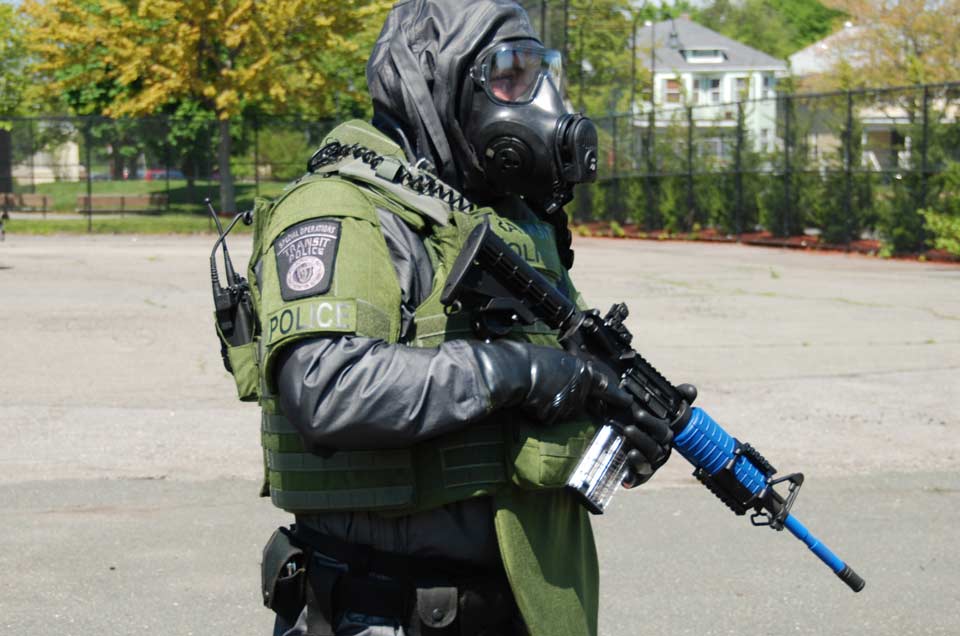 MULTI-THREAT ENSEMBLE
Triple-Certified Protection for HAZMAT and Hot Zone CBRN Missions
Blauer's Multi-Threat ensemble offers the highest level of protection in the Homeland Defender® line from liquid, vapor, and particulate forms of HAZMAT and CBRN agents. The suit is made of GORE® CHEMPAK® Ultra-barrier fabric and is certified to NFPA 1994 (Class 1 and Class 2) and NFPA 1992 for protection against chemical warfare agents (CWA's) and toxic industrial chemicals (TIC's) at concentrations at or above IDLH when worn with approved SCBA systems. For added protection, this revolutionary non-permeable membrane is laminated to a 4.5 ounce NOMEX IIIA outer shell, which provides excellent static dissipative performance and resists melting, dripping, and burning when exposed to high heat and flame.
SUPERIOR HEAT STRESS MANAGEMENT
First responders, HAZMAT, and tactical teams typically must deal with heat stress and elevated core body temperatures caused in large part by their PPE ensembles, which trap body heat and interfere with the body's sweat response. The Multi-Threat suit effectively alleviates this problem through a unique "evaporative cooling" capability. The NOMEX® IIIA outer shell has been engineered to absorb water without affecting the integrity or protective performance of the underlying GORE® CHEMPAK® barrier. By wetting the suit down with water before or during use, the wearer benefits from a natural cooling effect similar to sweating as the water evaporates from the outer shell.
FEATURES + BENEFITS
NFPA 1994 Class 1 (2018 Ed.) Certification
NFPA 1994 Class 2 (2018 Ed.) Certification
NFPA 1992 (2018 Ed.) Certification
Form-fitting design for superior mobility and confined space operations
NOMEX® IIIA laminate fabrics for limited FR protection
Approved for use with tactical-style boots
Tactical gloves for superior dexterity
One piece design with integrated CBRN booties and gloves
Rubber to rubber SCBA mask interface eliminates the need for chemical tape
Evaporative cooling capability allows for extended response times
Rugged GORE® CHEMPAK® Ultra-barrier fabric and extra strength seams for safer operations in demanding CBRN environments
Reusable – can be laundered multiple times if no gross contamination
Alsahafa District, Prince Nassir Bin Farhan Street. Building: 4140 RIYADH, 13321 Saudi Arabia​