Sono Ultrasound Phantoms
Training & Compliance Ultrasound Testing
Sono Ultrasound Phantoms are relied on for training and QA testing of B-mode ultrasound systems. A selection of models supports your clinical needs, and helps you meet requirement
Ensure your ultrasound systems are accurately imaging complex cases. Consistent testing with your ultrasound devices means greater confidence in your patient assessments. Plus, an enhanced 5-year warranty is the longest warranty available for ultrasound QA phantoms.
Maintain Compliance
The Sono family of Ultrasound Phantoms are generally compatible with AIUM, ACR, AAPM, IEC 62736, IPEM 102, and EFSUMB TQA QA Guidelines.
Unparalleled Tissue Mimicking
Patented High Equivalency Gel (HE Gel™) provides multi-frequency, high quality, reproducible images. Material stability supports testing across the entire frequency range — 2 to 18 MHz — for a variety of transducers and systems. Linear response of attenuation to frequencies over 8 MHz supports accurate axial resolution and penetration depth representative of human tissue.
Suite of Offerings
Our Sono Phantoms suite offers precisely spaced pin targets and fibers, and varying surfaces, for testing various applications.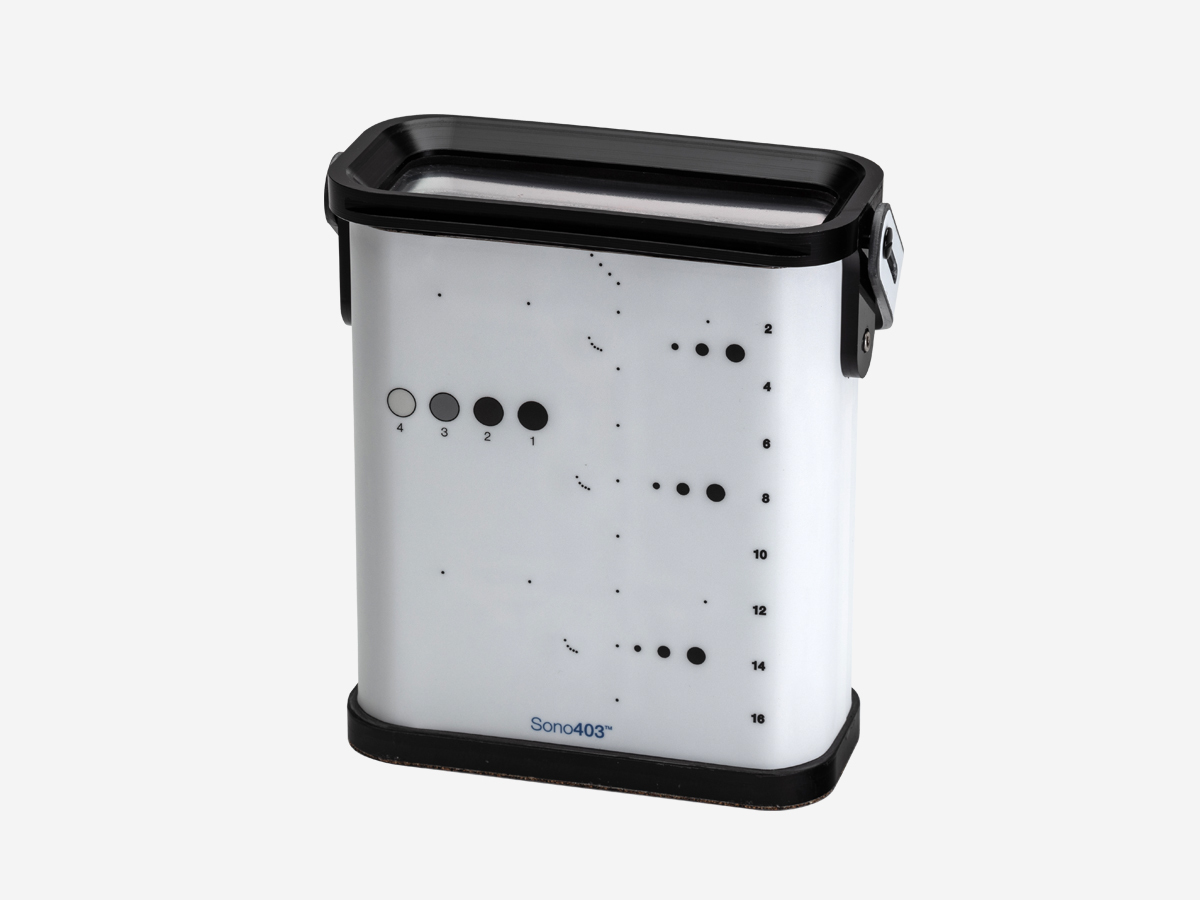 Sono403™ Phantom: Multi-Purpose
Verify system settings and depth of penetration for small to very large patients
Simulates typical depth through abdomen to the liver
Precisely placed targets support grey scale and axial resolution system measurements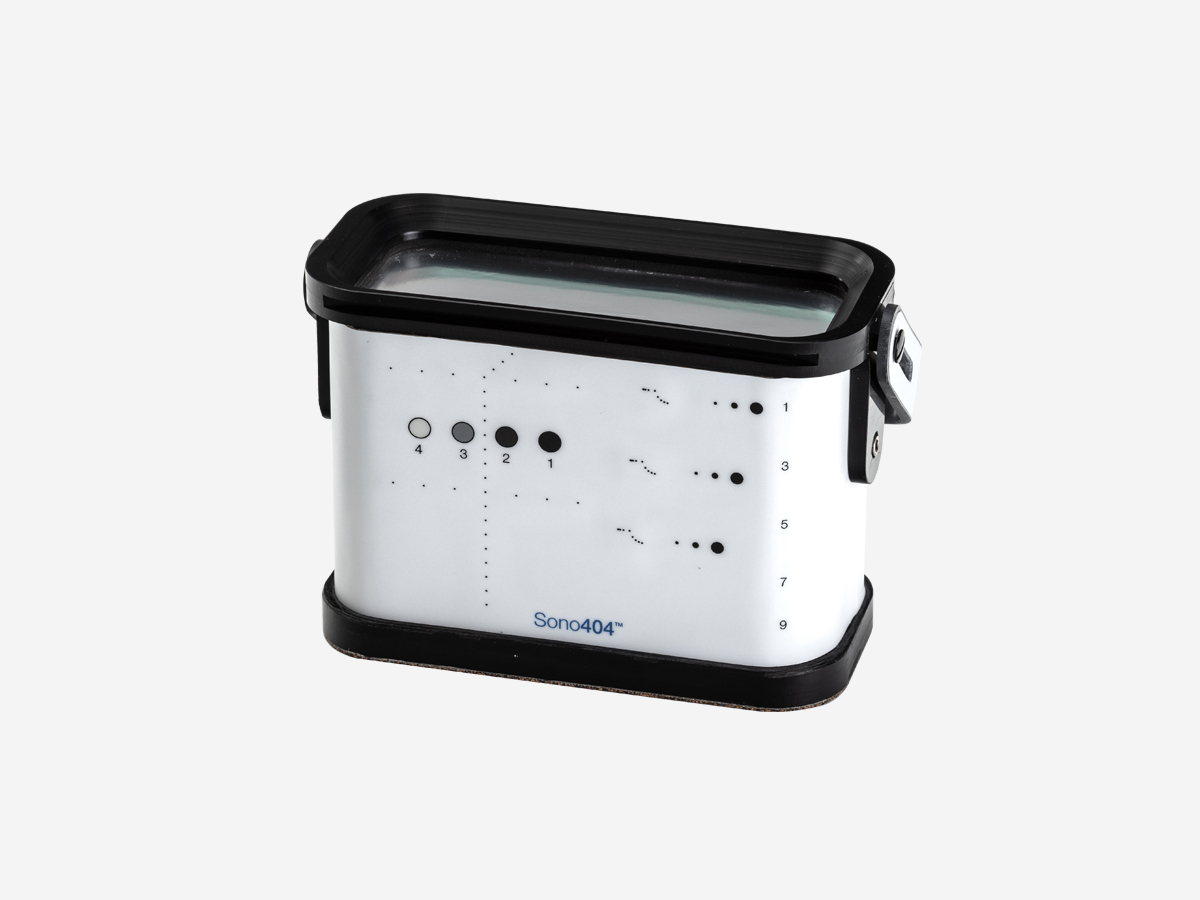 Sono404™ Phantom for Small Parts
Supports Cardiology, Breast Care, Musculoskeletal and Vascular applications
Closely spaced pin targets make it ideal for testing high frequency transducers
Enables training and testing the most difficult cases, including small parts and intra-cavity ultrasound systems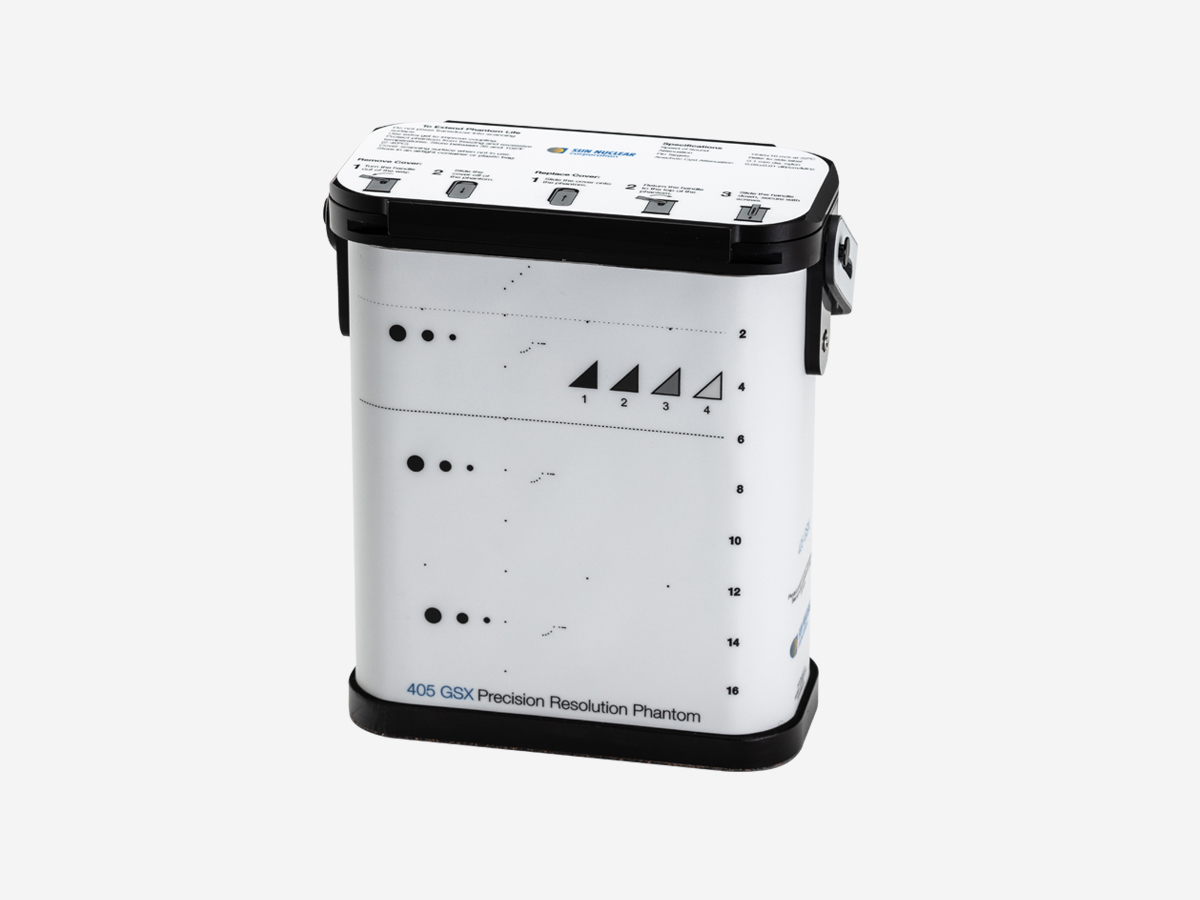 405 GSX LE: Troubleshooting Phantom
Supports Biomeds who need to troubleshoot ultrasound systems.
Two horizontal cross fibers in the middle of the phantom can be used for aligning the transducer and as reference markers to ensure consistent setup over time.
Triangular grey scale targets support resolution testing of high-performance ultrasound scanners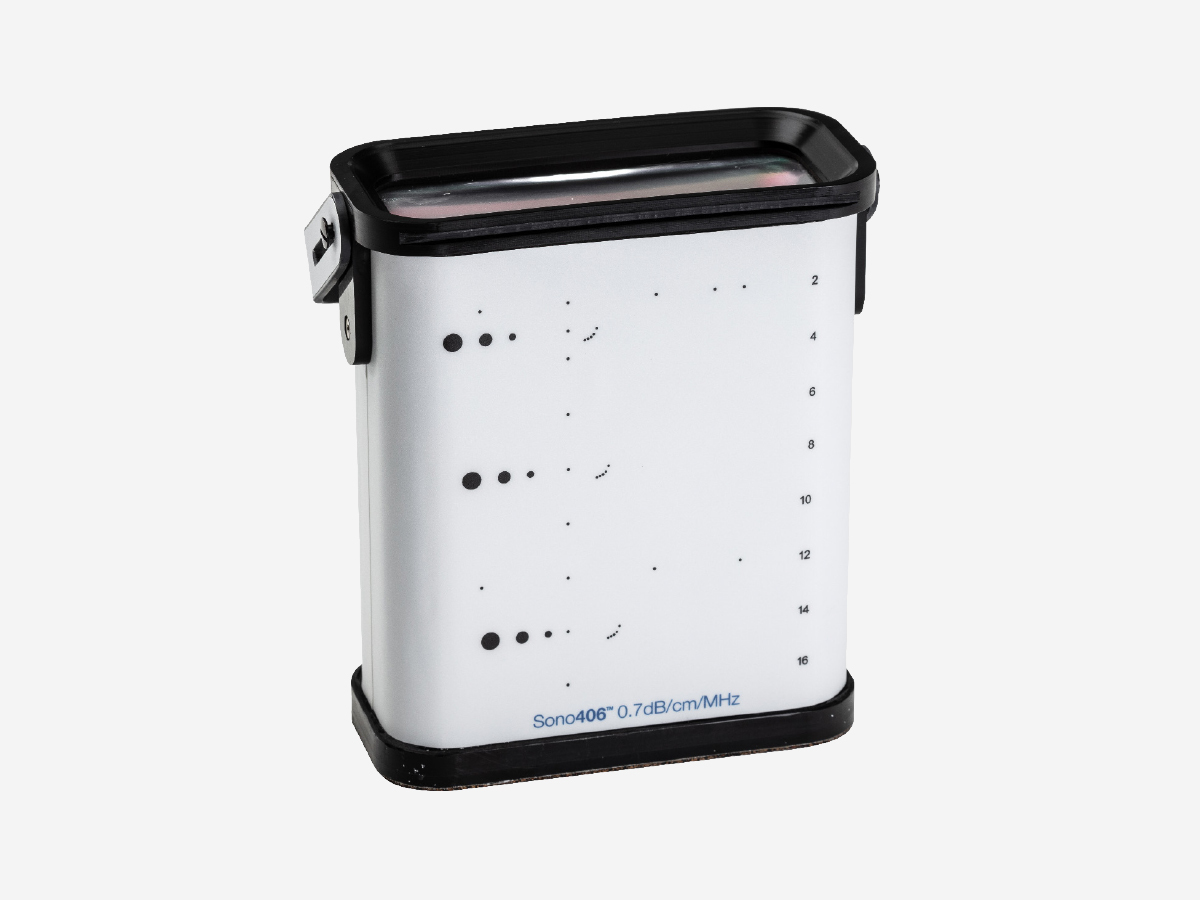 Sono406™ Dual Attenuation Phantom
Background attenuations simulate healthy and diseased tissue in a side-by-side configuration to aid characterizing pathological tissue structures
Evaluation of high resolution ultrasound systems
Testing over a wide range of frequencies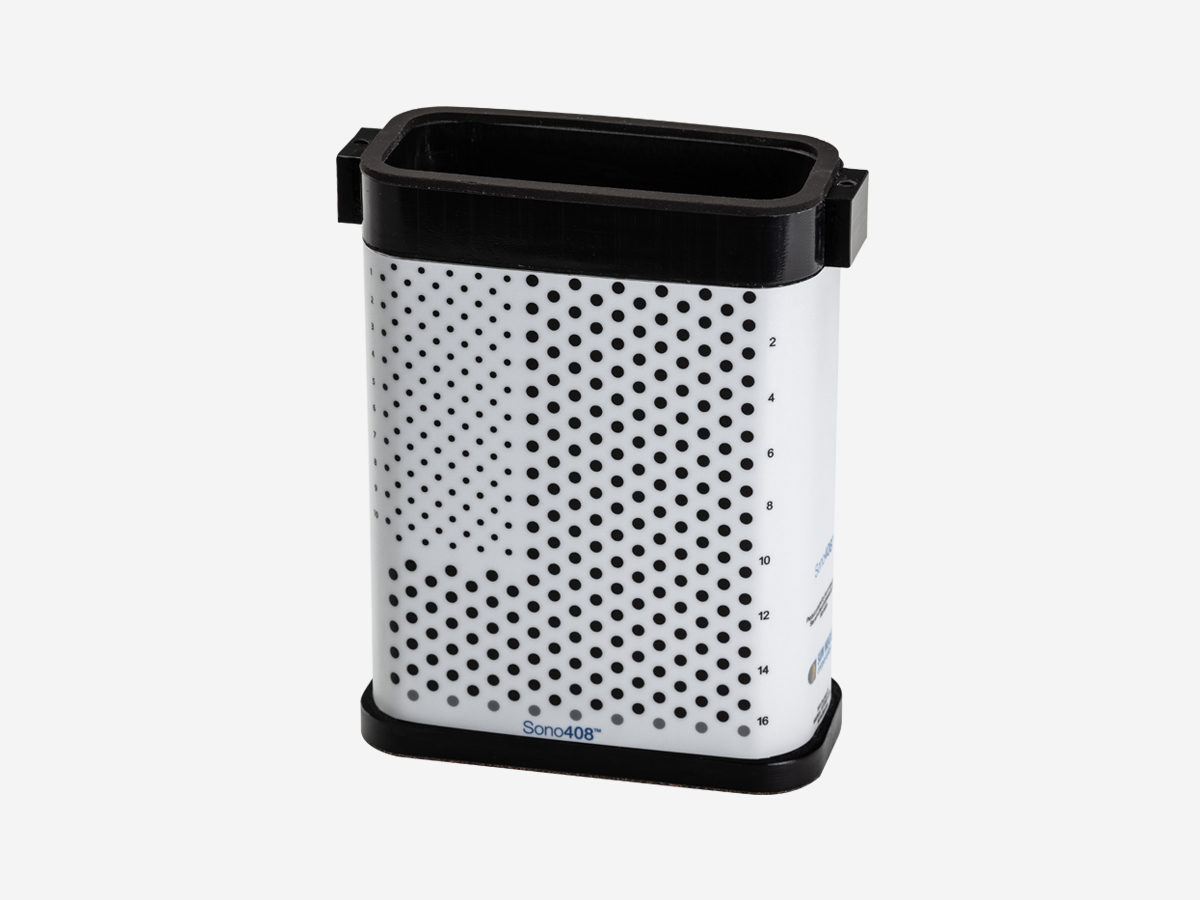 Sono408™ Spherical Lesion Phantom
Ensure system presets are based image quality, not default settings, for optimal performance
Ideal for spherical lesions that have negligible echogenicity and produce no distal enhancement or shadowing
Supports testing high-frequency transducers used in echocardiography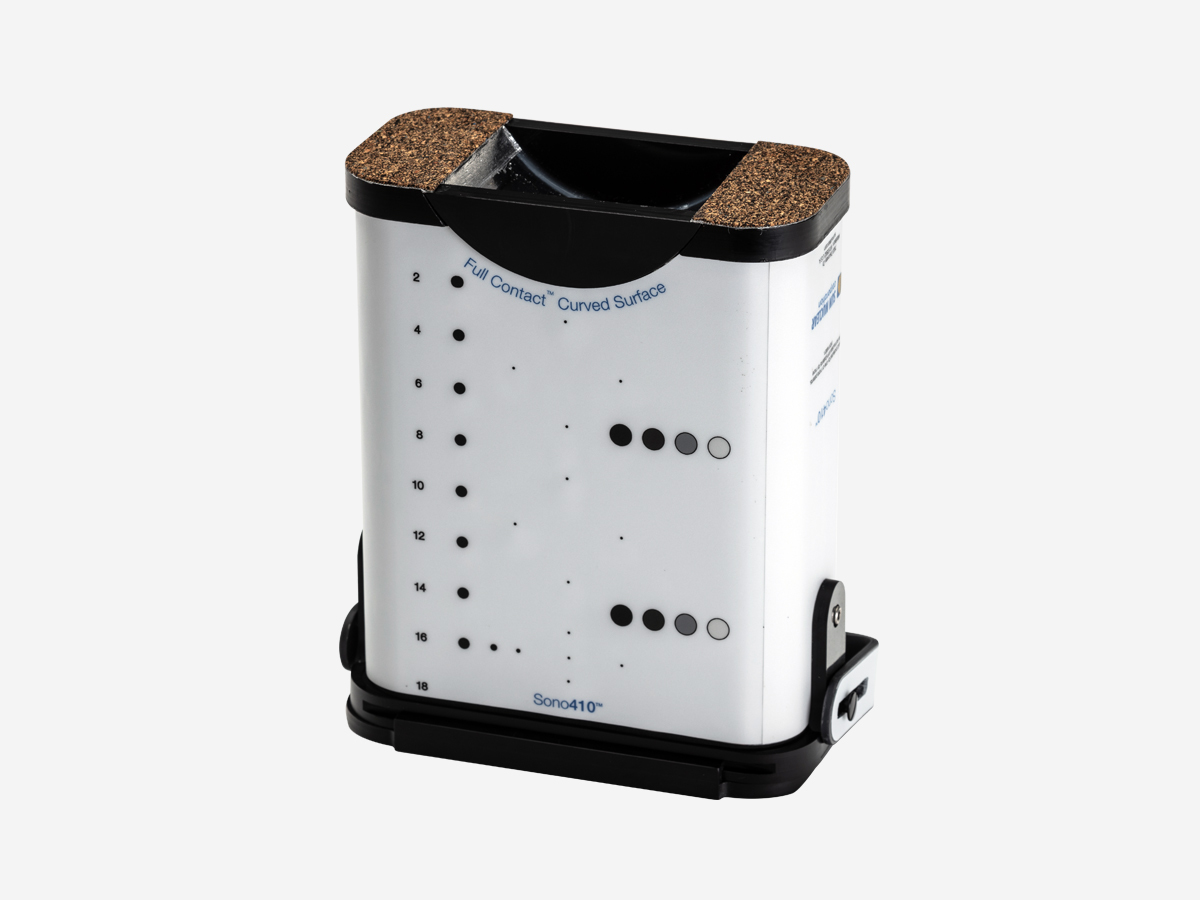 Sono410™ Full Contact™ Phantom
Meets the ACR guidelines for ultrasound QA, and includes two patented scanning surfaces — curved and flat —for precise performance and uniformity testing of convex and linear transducers

Patented curved surface improves coupling between convex transducers and phantom scanning window

Ideal for compliance testing of image quality of high-resolution Ultrasound Systems in breast care centers and diagnostic ultrasound departments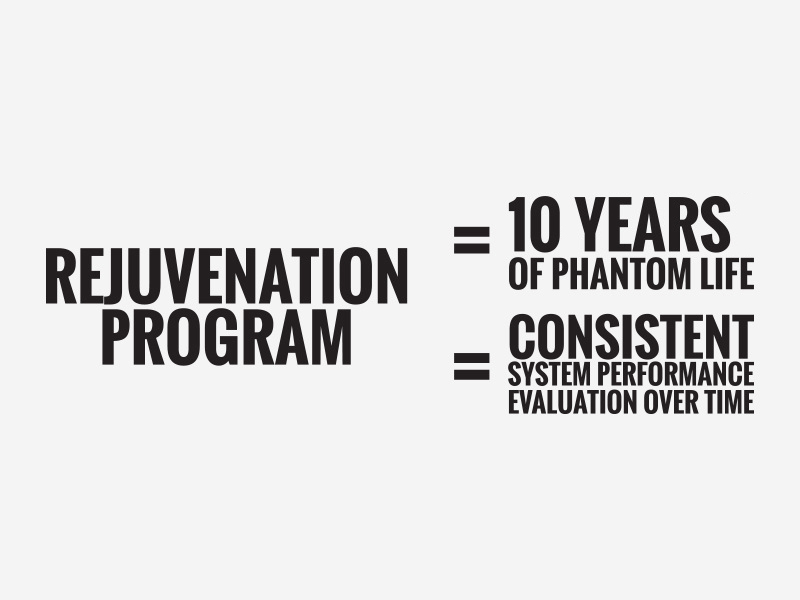 Rejuvenation Program
Our ultrasound rejuvenation program can extend the phantom's life by 10 years. Rejuvenation replenishes fluid inside the phantom lost over time and certifies the phantom as comparable to new.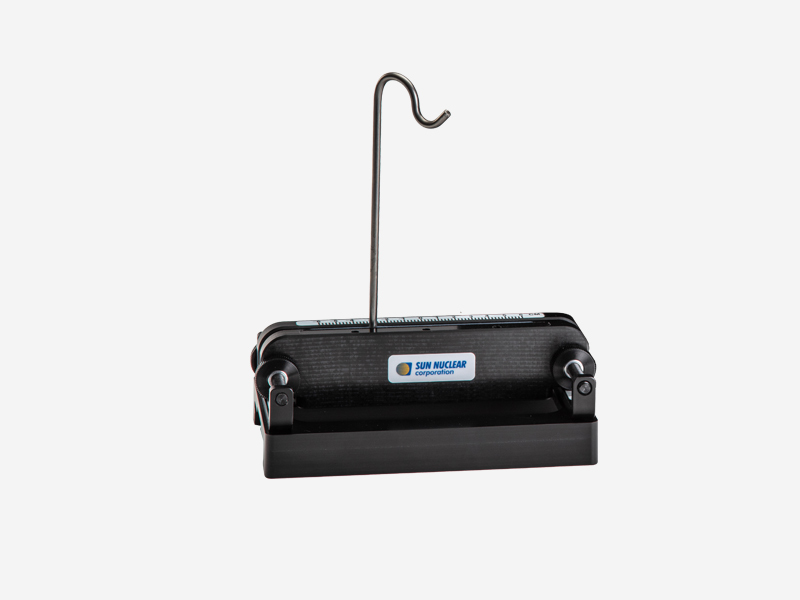 Sono Transducer Holder
The optional Transducer Holder enables placement of the transducer in a precise location for reproducible tests over time.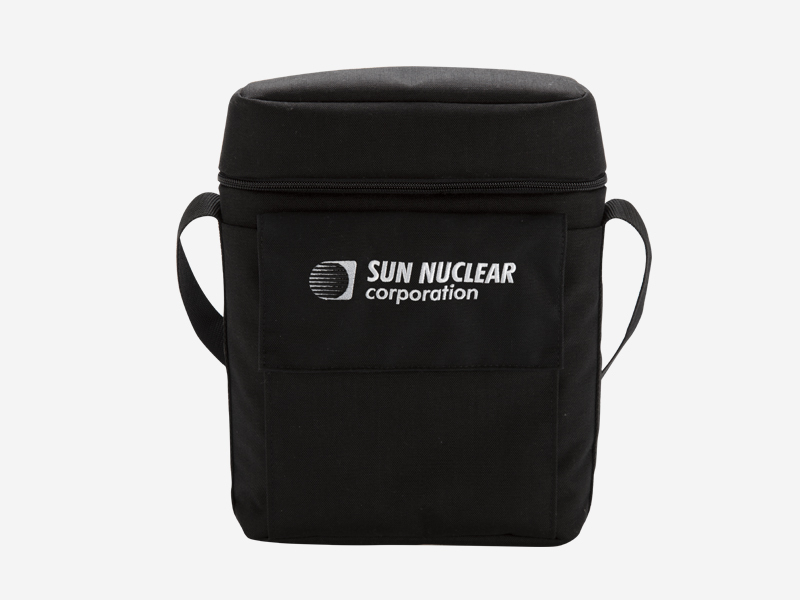 Travel Case
Lightweight, soft, custom carrying case includes a shoulder strap, and space for gel bottle and user guide.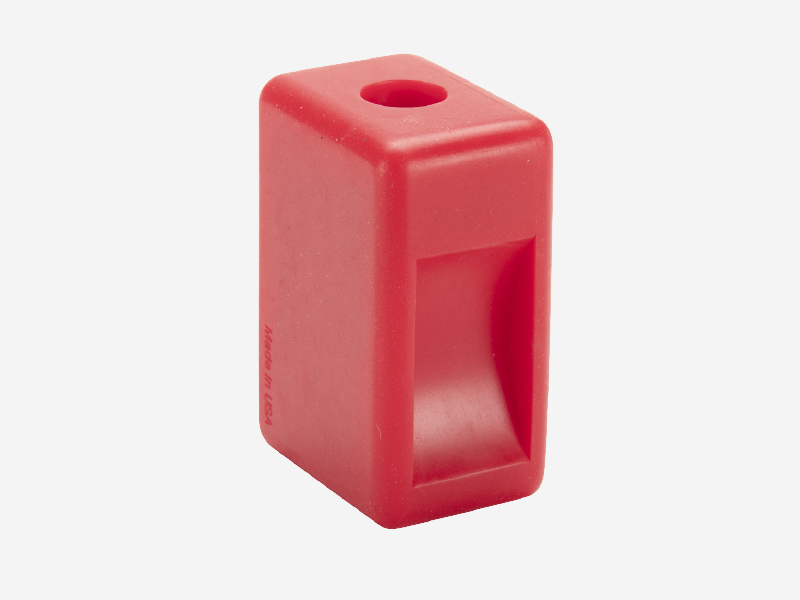 Transducer Evaluation
Optional SonoTE™ Phantom is a low-cost, high-value ultrasound transducer evaluation device. It provides uniformity tests for linear, convex and intercavity transducers.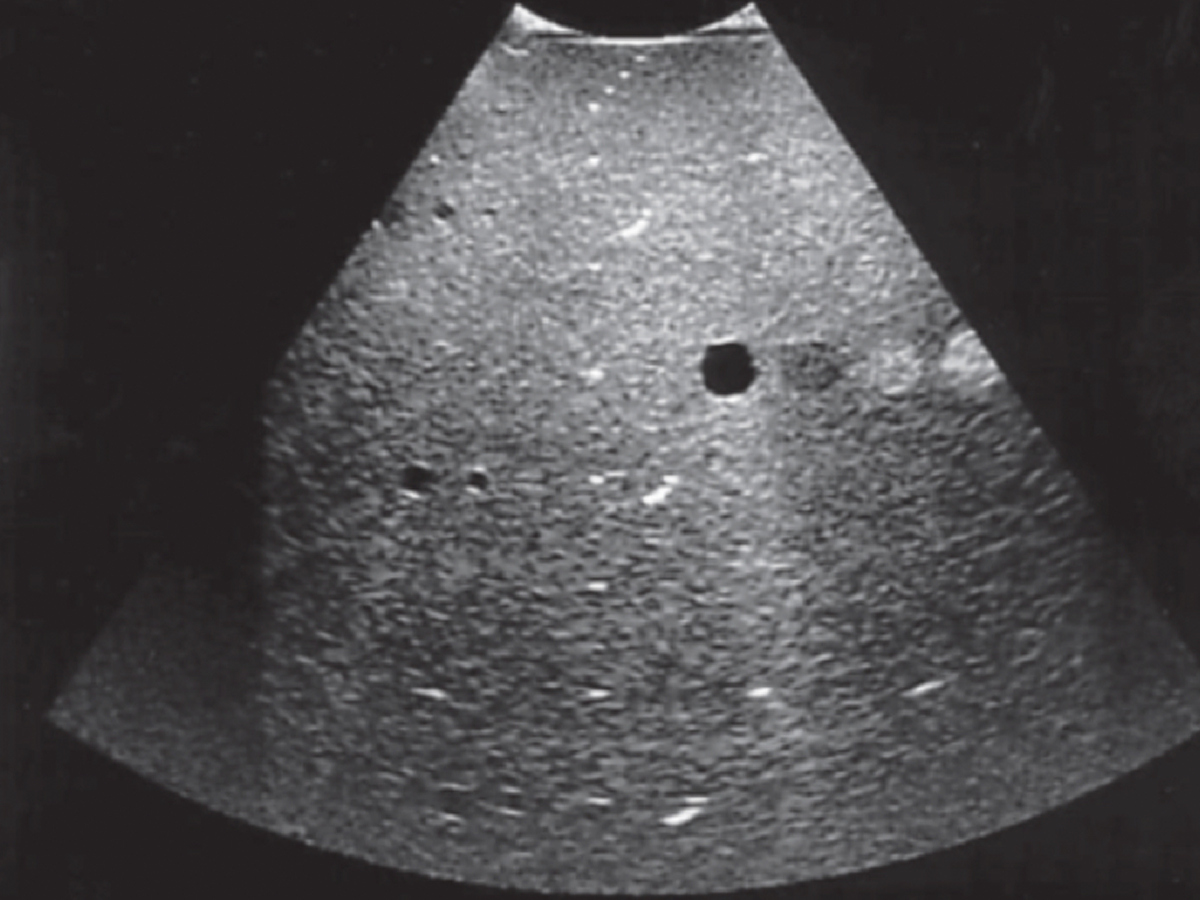 HE Gel, included within each Sono Phantom

Attenuation Coefficient

0.5 or 0.7 dB/cm/MHz

Variation of Attenuation with Frequency

f1.08 at 0.5 dB/cm/MHz (represents healthy human liver tissue)
f1.1 at 0.7 dB/cm/MHz (represents fatty liver tissue)

HE Gel Freezing Point

< 0° C

HE Gel Melting Point

>100° C

Frequency Range

2 – 18 MHz

Speed of Sound

1540 m/s

 
All Sono Phantoms

| | |
| --- | --- |
| Grey Scale Target Speed of Sound, where applicable | 1540 +/- 10 m/s speed of sound (1.5 m/s/ºC temperature dependence) |
| Grey Scale Targets Contrast, where applicable | -6 dB, +6 dB, high scatter relative to background |
| Acoustic Measurements | Made at 4.5 MHz, 22º C |
| Case Material | Extruded ABS plastic |
Sono403 Multi-Purpose Phantom

Cystic Targets Diameters & Placement

2, 4, 6, and 10 mm; 3, 7, 8, and 14 cm deep

Grey Scale Target Diameters & Placement

10 mm; 6 cm deep

Pin Targets Diameter & Placement

0.1 mm; 2 cm at 2 to 16 cm deep vertical spacing, and 3 cm at 2 and 12 cm deep horizontal spacing

Resolution Target Groups Depths

3, 8, and 14 cm deep

Weight

2.8 kg (6 lbs. 5 oz)

Dimensions

23.2 x 8.25 x 18.5 cm (9.25 x 3.25 x 7.25 in.)

Pin Target Material

Nylon monofilament

Scanning Surface

Composite film

 
Sono404 Phantom

Cystic Targets Diameters & Placement

1, 2, 4 and 7 mm; 1, 3, 3.5 and 6 cm deep

Grey Scale Target Diameters & Placement

7 mm; 3 cm deep

Pin Targets Diameter & Placement

0.1 mm; 5 mm at 1–9 cm deep vertical spacing, and 10 mm at 1 and 5 cm deep horizontal spacing

Resolution Target Groups Depths

1, 3.5 and 6 cm deep

Weight

1.75 kg (3 lbs 13 oz.)

Dimensions

17 x 8.25 x 15.875 cm (6.75 x 3.25 x 6.25 in.)

Pin Target Material

Nylon monofilament

 
405 GSX Precision Resolution Phantom

Cystic Targets Diameters & Placement

2, 4 and 6 mm; 3, 8 and 14 cm deep

Grey Scale Target Diameters & Placement

9.5 x 9.5 x 13.4 mm; 4 cm deep

Pin Targets Diameter & Placements

0.1 mm; 2 cm at 2 to 16 cm deep vertical spacing, and 3 cm at 2 and 12 cm deep horizontal spacing

Resolution Target Groups Depth

3, 8, and 14 cm

Weight

2.8 kg (6 lbs. 5 oz)

Dimensions

23.2 x 8.25 x 18.5 cm (9.25 x 3.25 x 7.25 in.)

Pin Target Material

Nylon monofilament

Scanning Surface

Composite film

 
Sono406 Dual Attenuation Phantom

Cystic Targets Diameters & Placement

2, 4 and 6 mm; 3, 8 and 14 cm deep

Pin Targets Diameter & Placements

0.1 mm; 10 mm at 2 to 4 cm deep and 20 mm at 4 to 16 cm deep vertical spacing; 30 mm at 2 and 12 cm deep horizontal spacing

Additional pin spaced at 10 mm in shallow set.

Resolution Target Groups Depth

3, 8, and 14 cm deep

Weight

2.8 kg (6 lbs. 5 oz)

Dimensions

23.2 x 8.25 x 18.5 cm
(9.25 x 3.25 x 7.25 in)

Pin Target Material

Nylon monofilament

Scanning Surface

Composite Film

 
Sono408 Spherical Lesion Phantom

| | |
| --- | --- |
| Cystic Targets Diameters & Placement | 2 and 4 mm; 2 mm at 0.5 to 10.5 cm deep and 4 mm at 0.5 to 16 cm deep |
| Weight | 2.8 kg (6 lbs 5 oz.) |
| Dimensions | 23.2 x 8.25 x 18.5 cm (9.25 x 3.25 x 7.25 in) |
| Scanning Surface | Composite film |
Sono410 Full Contact Phantom

Cystic Targets Diameters & Placement

1, 2 and 4 mm; 2, 4, 6, 8, 10, 12, 14 and 16 cm deep

Grey Scale Target Diameters & Placement

8 mm; 4 and 11 cm deep

String Targets Diameter & Placement

0.1 mm; 1, 2 and 4 cm from 1 to 15 cm deep vertical spacing; 2 cm at 2 cm deep, 4 cm at 7 and 13 cm deep horizontal spacing

Weight

2.8 kg (6 lbs. 5 oz)

Dimensions

21.8 x 9 x 19.2 cm (8.6 x 3.5 x 7.5 in.)

String Target Material

Nylon monofilament

 
SonoTE Phantom

| | |
| --- | --- |
| Material | Silicone base |
| Dimensions (L/W/H) | 11.5 x 5.7 x 7.5 cm (4.63 x 2.25 x 3 in) |
| Weight | 580 +/- 5 g (1 lb. 4 oz.) |
Alsahafa District, Prince Nassir Bin Farhan Street. Building: 4140 RIYADH, 13321 Saudi Arabia​